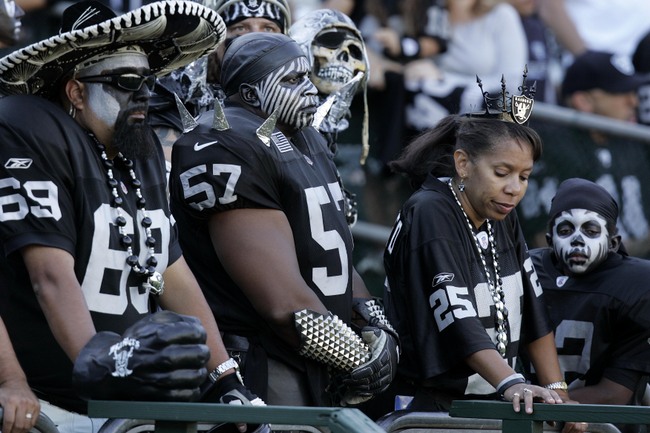 "Yeah. I know what ya mean."
The Raiders defense SUCKED last year. And the year before that. And the year before that. In fact, their defense has been absolute shit for so long that I'm having one hell of a time remember a year in which it didn't suck. Even in their Super Bowl season of 2002 the defense did just enough to allow them to win shootouts with the other team until they got skull fucked by the Bucs. So naturally, Al Davis did nothing to fix this. And yes, the acquisition of Richard Seymour really is going to turn out to be nothing. Unless he plans on gaining like 60lbs and learning how to play DT I really don't see any way in which him being here for one year is going to do shit. The fact that Nnamdi Asomugha basically shuts down his half of the field on passing plays does nothing. Kirk Morrison and Thomas Howard flying around the field making plays means nothing. When Tommy Kelly and Gerard Warren are your starting DTs you're basically handing your opponent a coupon for free runs up the middle. The Raiders cannot stop the run. This is going to become more and more apparent than it already is as the season continues. This is about to get ugly.
D-Line
So basically Al Davis went out and threw some money at old-as-fuck Greg Ellis in hopes that he would all of a sudden make the rest of this defense worth a damn. When that didn't work out Al freaked the fuck out and went into Panic Mode. In recent years Al Davis Panic Mode has presented us with such wonderful things as "Tommy Kelly- richest DT in the NFL", "Deangelo Hall- savior of the secondary" and "Art Shell- Return to glory". So basically Al went out and mortgaged the future for a pretty good DE who is going from the best franchise in the NFL to the worst. On the one hand, Al was probably going to waste the draft pick anyway so why not trade it for something tangible? Yet on the other hand we have a little thing called REALITY and the REALITY of the matter is that Richard Seymour has a shit ton of miles on him and is not worth a 1st round pick. The Ellis/Seymour DE tandem is like something I would have done on Madden 2004. The fact that Al is running about 5 years behind current trends is pretty consistent with his m.o. Backing up the old farts is an interesting group of young guys. Jay Richardson has been rock solid since being a late round find for the Raiders. He even has played a little bit of DT here and there. He's a team-first guy and will do whatever it takes. Trevor Scott came out of nowhere last year to record 5 sacks. Not bad for a 6th rounder. He's got a good motor and should be a nice situational guy for years to come. Matt Shaughnessy was a reach and I'll be stunned if he ever makes an impact.
The aforementioned Tommy Kelly has a soft spot in the mechanical heart of Al Davis. He was an undrafted rookie who fought his way into the starting lineup and was developing into an OK DT. Then he blew out his knee and Al felt obligated to make him rich for some reason. I don't begrudge him for taking Al's money. I begrudge him for the fact that he has essentially retired on the field now that he has it. Warren Sapp's lasting legacy from his Raiders tenure is that his shitty attitude managed to rub off on Kelly and turned him into a lazy asshole. His running buddy in the middle is perennial underachiever Gerard Warren. He can't tackle, isn't much of a pass rusher and doesn't even really eat up much space for a guy his size. And yet there he is, still employed. It boggles the mind. Fellow 1st round flop William Joseph and undrafted rookie Desmond Bryant back them up. Whatever.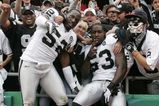 Linebackers
Kirk Morrison is a stud. He's a life long Raider fan and playing for his hometown team is a lifelong dream. That's what makes all of this that much harder to take. He deserves better than this. He's one of the few guys on this team who goes balls out on every play. If he played anywhere else (and I do mean ANYWHERE ELSE) he'd be recognized as one of the best middle linebackers in the league. Instead he is going to toil away here in Shitville and waste his career. Thomas Howard is another beast. He's one of the fastest, if not THE fastest linebackers in the league. He's excellent in coverage and is getting better against the run. He's not much of a pass rusher at this point, but his speed would seeming make him tailor fit for that role. The Raiders are rock solid at two out the three LB spots. The third spot is another story. Ricky Brown was supposed to hold down the other outside spot after a terrific camp last season. He opened the season as the starter but wound up missing 9 games with injury. He's pretty limited athletically but makes up for it with smarts and effort. Unfortunately for him, smarts and effort only carry you so far. At the end of the day you have to be athletic enough to make big plays. Sam Williams returns YET AGAIN. Last season was his 6th year in the league and it marked the first time he played in all 16 games. He's tall and athletic. He's also dumber than a box of hammers and has a bad habit of getting burned by tight ends and not wrapping up on tackles. Basically he's the polar negative of Ricky Brown. If you could somehow transplant Brown's brain into Williams body you'd have one hell of a player. But since we don't have that sort of technology yet we'll have to settle for what we have. Special team demons Jon Alston and Isaiah Ekejiuba provide depth.
Secondary
Oh Nnamdi Asomugha. You poor, poor son of a bitch. You're like Kirk Morrison except people actually know that you're really good at football. You deserve a better fate than this. You can go to all the Pro Bowls imaginable. You can end up in the Hall of Fame. Village children could one day sing songs of your heroism. None of it can make the hell that must be your life worth while. Last year Deangelo Hall was brought in to team with Nnamdi to make an unstoppable duo of lockdown corners. That didn't work out and Hall was out of here by midseason. He caught on with the Redskins and suddenly remembered how to play. Imagine that. Chris Johnson opened a lot of eyes last year and returns as the starter opposite Nnamdi. He's fairly solid. John Bowie is the guy the Raiders picked with the 4th rounder they got for Randy Moss. He sucks. He's still on the team. Stanford Routt was a 2nd round pick because he's really fast. He sucks. He's still on the team.
Safety is an absolute mess. Michael Huff was supposed to be a stud. Instead, he has been steadily outplayed by the marginal Hiram Eugene. He needs to go. Eugene is a decent special teamer who has no business being a starting free safety, yet that's exactly what he is for the Raiders. Mike Mitchell was the 2nd rounder mocked round the world. He wasn't projected to be drafted at all and yet the Raiders saw fit to burn a second rounder on him. He was supposed to come in and make some huge statement by taking the starting strong safety job. He did not. Tyvon Branch played well last season before getting injured. He's basically a corner, though. For some reason they think he can play strong safety. I'm skeptical.
Special Teams
Shane Lechler is one of the best punters in the NFL. Some say he's one of the best in the history of the league. The fact that there are zero punters in the hall of fame should tell you how much value there is in that title. He's really good at giving the ball to the other team, which comes in handy when your offense sucks. Sebastian Janikowski is what he is. Rocket leg, touchback machine and maddeningly inconsistent. He's not going to get any better than he already is. Johnnie Lee Higgins is a playmaker at punt returner. I expect another solid season out of him. Justin Miller was waived despite returning two kickoffs for touchdowns last year. Vanilla midget Nick Miller is supposed to take his place. Yeah.
MY PREDICTION
2-14. Anything over 4 wins and I'll be ecstatic.