So a week after the 49ers hung with the NFC North darlings and got Favred (never mind the fact that Greg Lewis made one of the best catches of the year on that play, although Favre got all the credit, because nothing gets a sportswriter's dick hard like a Farve comeback) the 49ers used the Rams as a doormat, much like the rest of the league, although they showed little semblance of that major component of a football team called "offense."
A 35-0 win where your defense/special teams score more points than your offense is something to be happy about, but then you realize you played the Rams, who have scored 24 points in their four games this season, and are now, without a shadow of a doubt, the worst team in the NFL right now. Hang your heads in shame? Not exactly, but for the offense, they have to do better than 14 points.
Obviously, offense being a problem (Josh Morgan's dropped TD, stacking against the run thanks to lack of passing game) the emergence of Vernon Davis as a playmaker has been the biggest thing for the 49ers offense this year. Frank Gore had the fantastic game against Seattle two weeks ago and became the face of the 49ers resurgence before getting injured against Minnesota, but after bitching and complaining his way into the doghouse for three years, Samurai Mike finally got to Davis in the offseason, and not only did he improve, but the team named Davis a CAPTAIN. He's responded in kind by bringing down some big passes in traffic and is now making the medium-length plays over the middle, beating linebackers down the seam and making first downs. His arrival is leaving behind memories of the lack of production from 49er tight ends since the great TED POPSON, who graduated from Portland State after transferring from Sonoma State back in the late 80's. GO COSSACKS.
Needless to say, the 49ers will be able to try and figure out their offensive problems against a Falcons team that gave the Pats a decent run, with perfectly facial structured pretty boy Matt Ryan looking to stop this whole "sophomore slump" nonsense. The Falcons are coming off a bye week and are going against a team who has lost their one dimension, as Glenn Coffee isn't exactly blowing away anybody with his running prowess. Expect a low scoring game unless the defense somehow comes up with big plays again, although this offense they'll face is not even close to the "offense" they faced yesterday.
Meanwhile, Michael Crabtree has until November 17 to sign or be unable to play at all this season. Pundits believe Crabtree will begrudgingly sign before then, ending the national nightmare that has seen the diva wideout pine for a larger contract. Meanwhile, the fantastic and awesome scenario that has been presented to me is that Crabtree won't sign...but then the 49ers will draft him again in the 2010 draft. If that happens, not only would I lose my shit, but I would probably die of laughter because if there's anything I love, it's a player acting like a dumbass thinking he has it all planned out watching it blow up in his face and realizing he'll have to take what's given to him. You know, like everyone else in the world.
I think the story that nobody is talking about is what would happen once he got signed. Crabtree, once he would get signed, would get to look Samurai Mike in the eyes. Would you want to look this man in the eyes? I mean, take a look: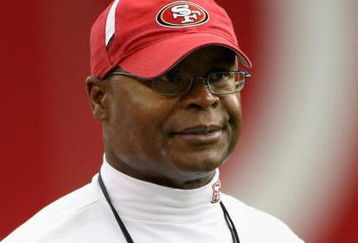 You don't think that if Crabtree gets signed, he won't get turned around like Davis did? You think Crabtree is just a LITTLE bit scared about having to go to that team three months after everyone else got there to prepare for the season, have to be a part of those practices and basically get his ass whooped a little bit for being a baby about his money? I'm salivating over the possibility of Singletary and Crabtree meeting behind closed doors and Crabtree's ass puckering up at the thought of things not going his way. He would be the The Man on this team, the guy who would be the link between this team and great receivers of old, but for him to truly become the player 49er fans hope he would be, it's going to take a lot for him to win the team over once he finally comes in to the fold. Give him three weeks and you'll hear stories about how great a teammate he is and how much they love him. It'll take the tough love for him to get there, but I'll tell you what, if there's anything that I've learned in the time that Singletary has been the coach, he wants players who will play for him. Either Crabtree will play for him, or Singletary will kick his ass and THEN make him him play for him.
God, it's fucking awesome to be stoked for the 49ers again.