Three things of note regarding the soccerballs today. The African version of the UEFA Champions League begins it's first preliminary round today, so that gives us great things like...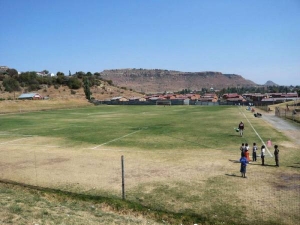 (this is literally Lesotho Correctional Services' home pitch, capacity 3000 in case you were wondering; I would assume that's standing room only)
#1: DYNAMOS F.C. vs. LESOTHO CORRECTIONAL SERVICES
This preliminary round of the CAF Champions League is your normal home-and-away tie, with aggregate winners moving on to the official First Round of 32 teams. Dynamos aka the Glamour Boys is a team from Zimbabwe. But the real interesting thing to me is that there is a team called Lesotho Correctional Services, which makes me assume this is either a team of prison guards or of prisoners, which then leads to the whole possibility of famous footballers being wrongly imprisoned just to perform on the LCS team for a corrupt warden. I am going to assume that's what is going on here.
(just another day of chillingly battling riot police for Palmeiras fans)
#2: SPORTING CRISTAL vs. PALMEIRAS
Meanwhile, back down in South America, one of Peru's top teams (Sporting Cristal) is going up against one of Brazil's most popular teams (Palmeiras) in Peru. I would very much like to disappear from this bullshit country called America and do life research on psychotropical drugs in South America while also maintaining a writing presence covering the human aspect of football on that continent. All sugar mama benefactors apply to my email address. I am pretty talented at oral linguistics.
(just your standard rooster on a soccer ball with a knight holding a bloody sword team logo tattoo)
#3: TOTTENHAM HOTSPUR vs. LYON
In case you didn't know, the UEFA Europa League is like a second-tier to UEFA club championships, below the Champions League, so sort of like the American NIT tournament, major leagues are not stoked to go there but then maybe win a couple and then are like, "Oh okay, we'll see what we can do here." And then smaller leagues (countries in this case) are super-stoked to have a chance to beat up on bigger league teams, albeit on a smaller scale than the Champions League. This game is not like that because they've gotten to the knockout round of 32, which is a home-and-away, and EPL heavyweight Tottenham Hotspur aka the snarky hipster's team of choice (for those too cool for cool ass Arsenal) going up against a stupid French team. Fuck French teams. I like the Spurs because they have Clint Dempsey and I read an interview one time where he talked about listening to DJ Screw a lot. That's really all I need, to think some football dude from Texas is riding around on the wrong side of the road in London, bumping some Screw tapes, drinking codeine or whatever European codeine is, I guess for-real absinthe or something.
In yesterday's games of note; Atletico Mineiro beat Sao Paulo, 2 to 1; Manchester United and Real Madrid drew 1/1; and Shakthar Donetsk and Borussia Dortmund drew 2/2.
TWO DAYS IN A ROW I HAVE DONE THIS NOW!