You know you have a quarterback controversy
as soon as someone says "we don't have a
quarterback

controversy

!"
It's been a long time since I've written anything about the 49ers.
Drowning out the FOX studio heads shouting at each other with regards to the new 49er Quareterback Controversy and calling it debate is a good enough reason to start.
THE SHORT VERSION OF THE LAST TWO MONTHS:
Beat Buffalo's ass 45-3. It was fun (as 45-3 wins generally are) but taught us nothing. 300 yards on the ground AND 300 yards in the air was nice, but Buffalo's defense was (is?) so bad we didn't really learn anything about the 49ers, because their opponent was not competitive.
Got taken apart by the Giants, at home 26-3, laying a massive egg in the massively hyped and circled-on-the-calendar rematch of last year's conference championship. The Giants came in with an excellent game plan -- much like the Vikings did -- and the 49ers were unable to adjust OR play from behind, instead taking their worst ass beating of the Harbaugh era. Alex had a relapse to the bad old days, throwing 3 interceptions. It was so bad I turned it off and worked on my car.
4 days later, before I even had time to do my traditional complaining about Thursday Games, the 49ers beat Seattle 13-6 in a Thursday Game. Harbaugh trolled gamblers everywhere by taking 2 points off the board, refusing to accept an end zone penalty that would have resulted in a safety and a free kick. 7 point lead vs 9 point lead? 19 total points vs 21? Those cost a lot of people money, I'm sure. Eventually I figured out that Harbaugh's intent was to avoid getting someone injured in an already-won game, as kickoff returns are statistically the most injury-prone play in football, and health was worth more than 2 points. Still, funny.
During the long layoff caused by the Thursday game, I and many fans in the Bay Area kinda forgot about the suddenly out of sight and out of mind 49ers. This layoff managed to completely encompass as 7 game winning streak by the baseball team, netting a world series victory -- again -- and distracting people from the warts on the face of the suddenly more mortal 49ers -- again.
Beating the Cardinals 24-3. The Cardinals likewise taught us nothing about the 49ers, as their offensive line and QB were direly bad and they were as non-competitive on offense as the Bills were on defense. It did have THIS hit, though:
Which was probably worth an article on its own.
The 49ers got their bye week, resulting in a bizarre scheduling quirk where they ended up playing just 1 game in 23 days, before playing the Rams to a 24-24 TIE.
There were whispers of rust. Alex Smith took a hit that we eventually learned gave him a concussion, though he stayed in for one more drive and threw a TD pass. The still-green Colin Kaepernick had to take over. David Akers, virtually automatic last year, missed a pair of field goals, including the would-be winning one in OT. Others clinged to these excuses, but the truth is once again the other team came out with an aggressive, and GOOD, game plan. The 49ers were slow to react and TECHNICALLY came from behind, finally. But then technically they also didn't. Jeff Fisher took Jim Harbaugh to school in this game; The Rams ran
two
fake punts, one with their punter standing in the end zone. Both times it was a reaction to the 49ers leaving the gunner 1 on 1 and trying to set up for a block. The Rams have an athlete at punter, and they evidently trust him enough to audible into a fake in the right situation. Which, despite being a division rival, is kinda cool, and something for me to file away for if/when I finally write an article on my love affair with the unappreciated phase of the football game, Punters and Punting.
Then there was the Monday Night game against the Bears. Backup QB vs Backup QB. For once, it was the 49ers who schemed well and caught the other team with their pants down and their ability to adjust missing. Everybody gets more conservative on offense with their backup QB in, logically. This is clearly what the Bears were expecting. The 49ers actually
opened up
the playbook, got less conservative, and came out throwing with Kaep. Chicago was down 17-0 in the blink of an eye, Kaepernick destroyed "backup QB" as an excuse for the tie with the Rams, and I had warm fuzzy flashbacks to the glory days where 17-0 leads coming with the speed of a hiccup happened all the time. On defense, Aldon Smith got so many sacks (5) that the Monday Night Football Statistician literally lost count at one point. 32-7 win, including a completely unnecessary challenge at the end of the game when it was already 30-7, asserting that an intentional grounding penalty (by offensive lineman and former Bane Of My Existence Chilo Rachal -- yes, intentional grounding by a lineman, there had already been a sack/fumble of the QB on the play) ruled to have occurred out of the end zone was in the end zone. Turns out Rachal's knee was down before he tossed the ball forward, so the 49ers got
ANOTHER
sack on that play, and Harbaugh finally picked up that safety.
Felt good (32-7 wins over other to-be-playoff teams tend to), but enthusiasm must be tempered since the Bears had their backup QB out there, and their offensive line sucks. Which I knew going in, since I'd seen Chilo Rachal in their starting lineup last week. Still, to actually SEE the badness of their line was something to behold. Aldon Smith racked up STATZ, all well and good, but it doesn't quite teach us anything. Furthermore, as well as Kaepernick -- creatively nicknamed "Kaep" by teammates and coaches (more evidence that playing football and getting concussions destroys your brain) -- played, keep in mind he was able to sneak up on the Bears. They had no film on him, and he was playing under the opposite type of game plan than the Bears, and anyone else watching, was expecting. Neither of these things will ever happen again.
So what do we know about the 49ers as they head to New Orleans to play the suddenly resurging (but still absymal on defense) Saints? Well, this season's pattern of Great Game - Great Game -- Bedshit has finally put the clamps on punditoids falling over themselves to hail them as Possibly The Best Team In The League (and good riddance to that). They are ferocious again on defense, and the offense is better than last year. Yet, somehow, they look more... mortal, somehow. Something about how kicker David Akers just seems to miss some of the kicks he made look easy last year. Something about the semi-regular basis on which they have gotten out-schemed. Something in how they have not shown the capacity to play from behind or come back on a team.
And something about how, now, they find themselves in the middle of a quarterback controversy. This is a curious Quarterback Controversy: usually teams have one when both options for QB kinda suck and you're probably going to lose with either one. In this case, both options present distinct advantages. Both QBs are pretty good, which only serves to make the debate all the more heated.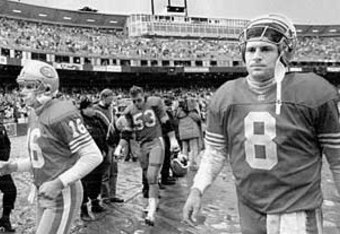 No, Not THAT heated, and no, not that "Both pretty good

."
Alex and his newfound mastery of Avoiding The Big Fuckup (except against the Giants) was forced to the sideline by injury, and in one start Colin Kaepernick showed himself Much Closer To Being Ready To Be The Guy Long-Term (which is the hope when you draft a QB in the 2nd round) than anyone in the fanbase expected. Alex has done nothing -- this year, anyway -- to cost him his job, other than getting a concussion. Yet Kaep is bigger, runs faster, and can throw a farther deep ball. He adds physical dimensions to the offense that do not exist when Alex is in there. Kaep is meant to eventually be the guy, and Alex is a free agent (again) after this season. For the moment, "eventually" is "now." Technically Alex has not yet passed the concussion tests to be cleared to play. Because they gave Kaep all the snaps in practice this week, and didn't test Alex until way late in the week, so Kaep would have to go anyway.
So, for good or for ill, it's Kaepernick time. At least for the moment. We'll see if this is an overreaction to last week's performance. Or maybe we won't. The Saints' offense is even more dangerous in their dome than they are on the road (as the 49ers saw and beat them last season). Will the 49ers and their fans continue to mood swing if the Saints out-gun the 49ers and Kaepernick gets saddled with a loss, going back to a now-conveniently-cleared-to-play Alex? Has Alex seen the field for the last time if Kaep leads them to a win again?
I have no idea what the immediate future of this team is.