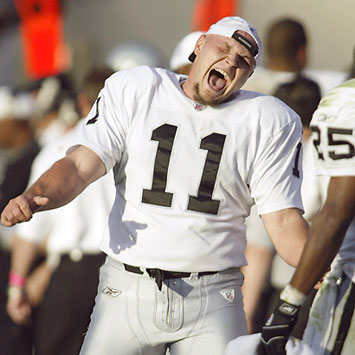 When Al Davis used the 17th overall pick of the 2000 NFL Draft on a fat Polish place kicker the first thing that went through my mind was how this must be a joke that involved a solar powered flashlight or a screen door on a submarine. I was soon proved wrong. Sebastian Janikowski was very real. He was horrible his rookie season, making only 68.6% of his field goal attempts. He put together 4 solid seasons after that only to have a 3 year stretch where he was awful to the tune of 66.7%, 72% and 71.9%. If this were literally any other place kicker on the face of the Earth you can rest assured that I would be the first man out rallying villagers and handing out torches to drive the Polish SCUD Missile out of Raider Nation. Yet I couldn't make myself do this. There is one very specific reason why I have stood by my pudgy ball launcher.
I am in love with Sebastian Janikowski.
Somewhere along the way I was able to look past the missed kicks and DUI arrests and games missed because of gout. I was able to work through the absolute blob that he has become and how he slowly stumbles after kick returners on the rare event that one of his kickoffs doesn't end up in a different zip code. I closed my eyes and opened the door and let Seabass date rape his way into my heart. And now, that love and faith is being paid off because Sebastian has gone from "Fat, gouty freak who I defend for no reason other than him being fat and gouty" to being one of the best kickers in the NFL. Every week when Seabass waddles out onto the field, everyone watching the game knows something magical is about to happen. Look no further than opening night in Denver when Janikowski tied Jason Elam and Tom Dempsey's all-time record by blasting a 63 yarder that would've been good from 65. The NFL did Seabass a solid by moving kickoffs up to the 35. The only time you're going to see a kickoff being returned against the Raiders is if Seabass allows it. Of his 17 kickoffs through the 1st 3 games, 4 of them have been returned, and 2 of those were on squib kicks. Oh, and he's now consistently in the 80% range when it comes to accuracy. Seabass is no longer one of Uncle Al's Oddities. He's a damned good kicker. Of course, he'll still get accused of false imprisonment and sexual misconduct from time to time, but that's just Seabass being Seabass. Shine on, you crazy Polock son of bitch!