The sporting talkative time-wasting world that likes to create thangs out of no thangs is in a huge hub-bub regarding the benching of one Donovan Q. McNabb by one Michael J. Shanahan this past weekend in what many have regarded as an embarrassing loss to the Detroit Lions, but a die-hard and realistic Redskins fan like myself understands is how things break under the ownership of Daniel R. Snyder. So as the is a trending topic and buzzes along multiple cybertronic HAARP beam platforms, and as part of our expanding obligation at Armchair Linebacker to give you for-real-not-pussy-shit coverage of the NFL, I figured I'd better filter through the bullshit, lay it all out for you, and help you better understand the major and minor players involved in this Quarterback Drama, as it continues to unfold along our bye week, so that you can be an educated motherfucker and not some jackass who repeats what faggot ass Jim Rome says. (By the way, fuck Jim Rome. If you are a Jim Rome fan, you are in the wrong spot, holmes. Make the world a better place, and fellate a loaded glock 9 into your face.)
Starting QB DONOVAN MCNABB
ROLE IN DRAMA: Starting QB for the Washington Redskins, since April when they traded some draft picks for him to the Eagles. Has not performed up to Pro Bowl peak years, but has given Redskins fans a bonafide starter they can proudly waste money on a jersey of. But he got benched at the end of the Detroit Lions game, for reasons that have not been made perfectly clear.
BEST CASE DESCRIPTION: A future Hall of Famer who gave the Philadelphia Eagles an unmatched stability at the most important position on the field in the NFC for over a decade, and legitimizes the Redskins in ways they have not been legitimized since previous great black QBing great Doug Williams retired with some Super Bowl bling on his pinkie finger. No one works harder than McNabb, and he will tough it out through the most painfully nagging injuries, hobbling down field for first downs on busted plays, and improvising at times in ways that make Brett Favre look like Jay Cutler.
WORST CASE DESCRIPTION: A halfwit negro who has gotten himself a high-paying gig as an NFL starting QB, taking the job away from more deserving and cerebral players through sheer athleticism. But you live by the sword of sheer athleticism, you die by that same sword, and McNabb cannot outrun defenders like he used to, leaving him to stand in the pocket and overthrow long patterns and underthrow dump-offs, mixing in a wide array of mistimed in-between routes, contributing to a generally unimpressive overall performance (not to mention QB rating) that makes ignorant ass Philly fans seem Einsteinian in their long-term criticism of #5.
ARMCHAIR LINEBACKER REALITY: The best QB we have had in a decade, which is like being the sharpest kid in special ed, or having a big dick for a Chinese dude. During games, he doesn't look lost so much as if he don't give a fuck. Even when he got benched, he didn't give a fuck. McNabb has had such a great life – lots of money, lots of attention, all the pussy a man could want, a nice expansive home in Arizona where he can play golf and raise a family free of all the lesser humans (both black and white) that tend to congregate in large clusters back east – how could he give a fuck about anything. Life is pure gravy to McNabb, and has been ever since he lost that one Super Bowl to the Patriots. Sure, a ring would be nice, but so would not having a bunch of fat ass white people screaming for you death inside the interwebs and on AM radio every fucking fall.
Head Coach MIKE SHANAHAN
ROLE IN DRAMA: Head coach of the Redskins, in his first season, who is going to do what Norv Turner, Marty Schottenheimer, some dude named Terry Robiskie, "The Ol' Ball Coach" Steve Spurrier, Joe Gibbs, and "Zorny" Jim Zorn could not do before him, which is to actually be allowed to coach the Washington Redskins. He, according to management flow charts, made the ultimate decision to pull McNabb from the end of Sunday's loss to the Lions.
BEST CASE DESCRIPTION: Mike Shanahan has won two Super Bowls, and did so through the installation of a system where offensive linemen were cogs in a well-maintained machine. RBs were not superstars so much as integral pieces you could mix and match to attain success. The defense simply had to smashmouth back on the other side of the ball enough to allow the methodical and old school yet forward-thinking offense to outscore the other team. Has more wins than any active head coach not named Belichick, and you cannot argue with success like that. Seriously, if you do, NFL experts will laugh at you behind your back as the kind of fan the sport doesn't need. Nothing ruins pro football more than ignorant fucks like you.
WORST CASE DESCRIPTION: Rat-faced child molester who was shamed out of the NFL after his fringe involvement in the ritual rape/murder of Jon Benet Ramsey. Mouth is constantly clenched into an anus shape, and would never have won a goddamn thing if he hadn't latched onto John Elway's horsefaced pre-programmed run as an NFL great, which was secretly meant to elevate Elway so highly that the Arena League could launch successfully as an MTV springtime developmental league for the NFL.
ARMCHAIR LINEBACKER REALITY: Shanahan has started to trim the fat off the Redskins roster, letting long-time high-profile guys hit the bricks, in exchange for nobodies who would gladly go to war for an NFL paycheck. I like that. But he also seems to believe his own hype, and likes to butt heads with superstars in his third run as an NFL head coach. Seems like this time is headed towards more of a Mike Shanahan – failed Raiders head coach – type of ending than a Mike Shanahan – great coach of the Denver Broncos – type ending, which makes sense, being Dan Snyder is basically this generation's Al Davis, just without the early successes. Just goes to show how badly Nintendos ruined America.
Offensive Coordinator KYLE SHANAHAN
ROLE IN DRAMA: Young football minded offensive coordinator who is the son of the head coach, but also calls the shots on McNabb's side of the ball. Came to the Redskins from the Houston Texans where current back-up QB Rex Grossman was also the back-up.
BEST CASE DESCRIPTION: Shanahan grew up in this game, and has soaked more offensive geniusry up with the hairs on his little finger than most NFL coaches have blotted up with their brains in their entire lives. Not only was he privy to his dad's coaching brilliance, but he has tweaked that with a heavy infusion of youthful exuberance. The Houston Texans, man, they had the crazy offense last year that was about to take the NFL to that otha level of the game (in honor of Bushwick Bill, Houston legend), but came with pops to D.C. to just bust up the whole goddamned league with mad geniusry. It'll take time to get the right pieces in place though, like playing Madden on Franchise mode.
WORST CASE DESCRIPTION: His dad got him the job. The players call him "Kyle" not "Coach". He's their friend, even though not really because he's management, not personnel. Also suffers from the Shanahan "I'm so goddamned smart I could make anybody look great" curse, which has him thinking that even though Rex Grossman has always been a giant piece of football shit, he could polish it up and make a playoff contender out of him.
ARMCHAIR LINEBACKER REALITY: Is my age, or maybe a little younger, but doesn't have the look of a man who has ever grown his hair out or even owned marijuana. Probably has smoked it, with fraternity brothers, but never actually bought an ounce of weed, much less a quarter pound to cut into smaller bags to sell at a profit and also get free weed. This is the type of street-savvy intelligence that goes far in a completely physical and mostly stubborn world like football. You can X and O the fuck out fourteen reams of notebook paper, laminate it all, and slap it in a three-ring binder as thick as Trent Williams thighs, but unless you've got some street-savvy to your ways, when all those players are your boy, you are not so much a "player-friendly coach" as you are a goddamned mark they are taking advantage of. Which is fine. More power to them. Lord knows, they are the ones getting concussed into dementia so you can pretend you're so goddamned smart, with your unblemished face and NFL-issue polo shirts.
Back-up QB REX GROSSMAN
ROLE IN DRAMA: Redskins back-up QB who was inserted at the end of the Lions game to run the 2-minute offense, and proceeded to get crushed and cough up the football on his first play from scrimmage, resulting in the game-sealing fumble return by Ndonkeykong Suh.
BEST CASE DESCRIPTION: Former 1st round draft pick of the Chicago Bears who helped lead them to their only Super Bowl appearance since that infamous 1985 team, yet was not given the proper offensive support, and has been a scapegoat for their failures under Lovie Smith. A hard-worker who has taken on the role of the back-up to stay in the NFL in the hopes of finding a second chance to show his true value as a team leader. I mean, he only lost the Super Bowl to Peyton Manning, perhaps the greatest QB the NFL has ever known.
WORST CASE DESCRIPTION: A goddamned fool of a turnover machine whose very presence as a second-stringer anywhere in the NFL is about the most obvious sign available that the league needs to contract by about 8 teams because there's just not enough high-caliber football talent to fill these teams.
ARMCHAIR LINEBACKER REALITY: Watching him loosen up on the sidelines on Sunday, I thought to myself, "Oh man, this is going to be retarded." And yet somehow, that first play exceeded even my wildest paranoias that have crawled through my brain ever since he was signed as the back-up in the off-season. Seriously, how fucking retarded do you have to be to think Rex Grossman is the answer to anything involving actual real life QBing in a game situation? Sure, let him toss the ball around a little bit in the preseason, let him feel like he's useful so that he doesn't hang himself in the basement, and push him back to 3rd QB who is never active after you sign some first or second year guy off of another team that got cut at the end of preseason. But motherfuck ever letting this dude get under center in a real live game situation where he does anything other than immediately drop to one knee. I wouldn't even feel good about having him do that, to be honest. Put the punter in there first.
Fat Guy JAMARCUS RUSSELL
ROLE IN DRAMA: Had a tryout with the Redskins this past week, one of his first chances at getting back on with an NFL team since the Raiders abandoned hope for him before the season started.
BEST CASE DESCRIPTION: A former overall #1 pick who showed tons of promise, but just didn't really fit in well in Oakland. Needed a change of scenery (as well as scheme), but with today's ballooning contracts, it was hard to justify outright releasing him and even harder to trade his back-loaded contract. Still though, a former college great who could have been – and still might be – the prototype for a large yet athletic, nearly indestructible futuristic QB that can withstand today's punishing pace.
WORST CASE DESCRIPTION: The biggest – both literally as well figuratively – QB bust the NFL has ever known. Giant piece of a shit of a man who should have floated away during Hurricane Katrina, but somehow ended up being roommates with Fats Domino, which is where he developed a cough syrup habit. The only man in modern NFL history to QB a game where he was larger than the dudes blocking for him.
ARMCHAIR LINEBACKER REALITY: Forgive me some next level forward thinking, but this year's NFL has been pretty boring and mediocre. I know there are those who will tell you, "Man, even bad NFL is better than anything else," but how long can you fleece people of money with that philosophy? Personally, I envision an NFL that embraces it's violent side and the low life types that enjoy such entertainment, and institutes Monday night games played under blacklight with a glow-in-the-dark ball. Redskins could have their regular yellow pants get all rave-glowy, and the burgundy jerseys could have reflective strips on the arms, not to mention the white around the Indian on the helmet decal really fucking popping in the blacklight. You play like this, same rules, in the blacklight, with screwed and chopped go-go music piped in loudly in between every play. There's 32 teams so you could just make this a one Monday night game, every week but the last, and then every team would have one game like this, making it an even steven new school scheme. And I could sit home and slug from a fat bottle of DXM like I've always wanted to. Not enough sports programming is geared towards psychoactive opiate abusers in my opinion. And if Jamarcus Russell squeezing his fat ass into a Redskins jersey moves us one step closer to this dream of mine, then goddamnit, sign him yesterday.
3rd String QB JOHN BECK
ROLE IN DRAMA: Usually an inactive extra clipboard holder for the Redskins, who was a 2nd round pick by the Miami Dolphins a few years back out of Brigham Young University, but has never really gotten a real deep sniff of playing in the NFL.
BEST CASE DESCRIPTION: A devout man who did not play his first college ball until the age of 22, who dedicates himself to God and football, and was one of BYU's best ever, earning him a 2nd round entry into the Miami Dolphins organization in 2007. Bill Parcels is a godless man though, so Beck never stood a chance in heathen Miami, and had a brief stint in Baltimore before realizing his best option to have a chance to eventually play QB in the NFL was in Washington behind two aging veterans and under the watchful eye of Joe Gibbs, whose God-fearing charitable philosophies still ring strongly throughout the corridors of Redskins Park.
WORST CASE DESCRIPTION: Another goddamn Western Athletic Conference/Mountain West Conference QB flameout who isn't equipped physically or mentally to play the NFL variety of football. Only in his fourth year, but already pushing 30, meaning he is a late model 3rd-stringer with little to no upside. Basically a cheap option to come in and take garbage duty in the event everybody else is crippled during a game, like what could've easily happened last week in Detroit.
ARMCHAIR LINEBACKER REALITY: I wasn't even sure if his first name was John or Dale, because one time playing franchise mode of Madden 03, I won like 9 Super Bowls in a row with a QB named Dale Beck, who was so awesome as a fake Redskin that I asked my mom to get me a custom #17 BECK jersey for my birthday. She had the good sense to not indulge my dorkeries, and I could never do something so retarded on my own, unless I had more discretionary income to lack discretion with. I don't really know anything about John Beck other than what I just read on Wikipedia, but I would assume that if he was a high school standout, but then didn't start in college until at age 22 as a true freshman, and he did that at BYU, then he's some stupid fucking Mormon who was off saving/recruiting Samoans for four years before he got around to going to college. People who believe so strongly in their flavor of god that they try to force it onto you in random encounters, that is not the type of person to have on your NFL team. Of course, I am the type of person who likes to leisurely drink cough syrup, as noted above, so the NFL probably isn't trying to cater to people like me. Although I did almost get an overly expensive customized NFL jersey for an imaginary video game character, so I'm exactly the type of person they care about.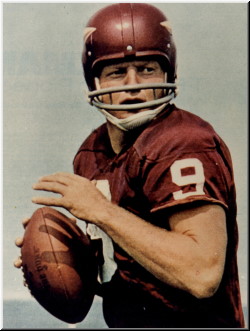 Color Commentator SONNY JURGENSEN
ROLE IN DRAMA: Color commentator on the Washington Redskins radio team who has a consulting relationship with owner Dan Snyder, and wields a heavy presence throughout the Redskins organization.
BEST CASE DESCRIPTION: Sonny is not only a Hall of Fame football player, but he's part of perhaps the greatest NFL radio team coverage ever. Solidly old school, often seen with a cigar between his lips, but well-schooled on the modern nuances of the NFL game, nobody connects pro football's blue collar roots with its intricate 21st century complexities like Mr. Jurgensen.
WORST CASE DESCRIPTION: Boring old coot stuck on some bullshit, so busy pretending he knows it all and being Dan Snyder personal idol, not to mention hating on Sam Huff and mocking the poor man without him knowing, that he's no longer to objectively see the obvious – that this team is FUCKED (and has been for a while).
ARMCHAIR LINEBACKER REALITY: Sonny's cool. Listening to them old dudes on the radio is awesome. By the way, I know there's mad Redskins nerds who are like "The new third guy on the radio team sucks compared to the old third guy." Whatever man. The third guy pretty much is just there to tell all the shit that gets missed while Sonny and Sam argue like a pair of old drunken cratchets over trivial bullshit. You could put a dude with one of those electronic voiceboxes because he got throat cancer and it would be okay.
Former Starting QB JASON CAMPBELL
ROLE IN DRAMA: Former Redskins starting QB who was cleared out to make room for the McNabb era, and who has struggled in Oakland as well.
BEST CASE DESCRIPTION: Former 1st round draft pick who went through offensive coordinators every year and never really got a fair chance to learn a bonafide professional system. Showed promise at times, and was a real leader who, if circumstances had been correct, might've been as great as Aaron Rodgers, who was taken one spot before him in the draft.
WORST CASE DESCRIPTION: Former 1st round draft pick who has fucking sucked his entire professional career, has a penchant for throwing key interceptions during late game drives, and generally looks confused when on the field. Seems to lack the proper grey matter to be successful at the NFL level, but hey, you can still make millions chilling with a clipboard if you were high profile enough in college.
ARMCHAIR LINEBACKER REALITY: I miss Jason Campbell. Not because he was any good, but I loved that deer in the headlight look of him clasping his hands together to tell people to hurry up 30 seconds after the previous play, right before he called a timeout to go to the sideline and figure out the perfect route to overthrow unless you consider hitting the other team in the numbers not an overthrow. Usually fall means deer hunting season, and the Redskins, as long as Jason Campbell has been a pro, have sucked early enough in the year that I can get some Sundays in the woods trying to put some venison in my freezer.
TV Dude JOE THEISMANN
ROLE IN DRAMA: Former Redskins great QB who helped win Joe Gibbs his first Super Bowl, and moved on to being a television commentator who had a long and glorious run on ESPN.
BEST CASE DESCRIPTION: Maybe the last bonafide great QB the Redskins ever had starting for them, and who at one time was The Man on American Earth, like Tom Brady, starring for America's consistently best team, and married to a woman who was incredibly motherfucking beautiful by that day's standards. So yeah, the Tom Brady of his era most likely if L.T. hadn't broke his leg.
WORST CASE DESCRIPTION: Over opinionated little asshole of a man who ran off every woman who ever was unlucky enough to marry him, and who has lived a long a miserable existence as a TV "expert" on the game of football ever since his career was ended in what he considers his prime. A good example of why we take injured horses behind the barn and shoot them.
ARMCHAIR LINEBACKER REALITY: Shut the fuck up, Joe. Whatever happened to Joe Washington, by the way. I'd rather hear what that guy has to say. Or Neil Olkewicz. I would bet that guy has some awesome opinions on a bunch of things. We always get the cocksucker skill position guys like Theismann or Troy Aikman or Michael Irvin instead of the chill ass dudes. I guess some people always have to have they face up in the limelight.
Owner DAN SNYDER
ROLE IN DRAMA: Owner of the Washington Redskins ever since he broke free of an ownership group with Jack Kent Cooke's son to have majority ownership, and turn the team into the second most valuable sports franchise in North America (behind the Dallas Cowboys, of course).
BEST CASE DESCRIPTION: He is rich. Really fucking rich.
WORST CASE DESCRIPTION: Little-dicked megalomaniac shithead who has ruined the only sports team I have ever cared about – deep down truly cared about inside my soul – and ran it into the ground. Took what was gonna be the glorious Jack Kent Cooke Stadium and turned it into an atrocity of a commercialized stadium where obstructed view seats are more expensive than buying brown children on the black market. Lets star players backdoor their way into his office, undermining the authority ladder, and keeps his little asshole buddies in positions of power for far too long, who help him ruin the team even further. Spends just as much on public relations campaigns that utilize his extensive network of local radio and ESPN contacts to make it look like he's not a complete shithead. Pretends he is a real fan and all he wants to do is win, yet gets in the way at every turn and has set the team back forever. Has access to far better health care than pretty much all but his most wealthy fans, meaning he will outlive me by decades, and even if my grandchildren are stupid enough to follow me into Redskin fandom, they will suffer under his half-witted ownership. Could not fellate enough AIDS-infested monkey dicks if he had a time machine and went back to Monday every Friday to suck more AIDS-infested monkey dicks for eternity but it would only look like one week to all us broke asses with no time machines in our possession.
ARMCHAIR LINEBACKER REALITY: I am probably being too nice to the guy.