I have been reading a lot of Wilhelm Reich's theories and studies on orgonomy lately, which is a strange blending of science and metascience - meaning it makes perfect sense to me, naturally (and I say "naturally" meaning the word, not as an unnecessary add-on to the phrase, because my nature is inquisitive yet attuned to the unseen). And as I was reading something somewhere else (I can't remember, nor can I be expected to be a walking citation list for your ease of following up... go seek your own path if need be), one dude said something along the lines of "spirituality without science leads to superstition, and science with spirituality leads to materialism, therefore I maintain both." This applies to football very much so, and I bring this up because I want to clarify how this list is done, and why it is done, and commit to maintaining it for the rest of the season, weekly. There is a mathematical formula behind where these teams place, that is established before the season and fine-tuned during each off-season (though I haven't fine-tuned it at all in three or four years). Therefore, I do not arbitrarily make the positions up, which is why although many NFL Power Rankings lists had the Bengals up in the top six or seven teams in the league before last week, they had not gotten higher than 14th on my NFLuminati Index. There was no science or spirit to back up the fact they were allegedly good, according to their record.
The internet, though, is a petri dish breeding ground of societal misfits with an autistic bent for numbers, who will go mad with punter formulas and strange precise calculations of minutiae which creates things like the Football Prospectus, which is basically applying baseball nerdery to football. This is a mistake, because that type of nerdery doesn't translate between sports. Baseball is a game of thinking (not smart thinking, just boring standing around chewing sunflower seeds thinking) so a lot more can be devised from statistical gibberish. They have created new statistical categories that I still have no idea what they mean because they weren't on baseball cards in the '80s. Shit man, slugging percentage was complicated enough for my young ass using some old school mathematics.
Football is not like that though. It's not a game of standing around and reminiscing on 1953 when Ricky Blalock became the first black midget to sacrifice bunt someone to third base, or calculating how well the dude in the bullpen warming up does against left-handed hitters who are from the Dominican Republic in day games not on the weekend. There's a slight aspect of that in football, but it's strictly limited to X's and O's. They don't even need a third letter. Draw that shit up and do it, because a lot of football is just overpowering a motherfucker, pure conquest, bordering on forcing the opponent to submit. And because of that, it's a highly psychological game, meaning there's unexplainable energies involved, very heavily. You can feel it in the stands and you can feel it on the field. One crushing hit changes the momentum or one long TD pass ends a game, spiritually, late in the first half. Shit man, we've all seen it.
Why do I bring this up now? Well, one reason is I've been putting a lot of poppy tincture in my nightly Earl Grey tea, and I've been building little homemade orgone generators out of scrap materials, but also because this column, this blog, this whole thing we're doing at Armchair Linebacker is completely different than most internet NFL bullshit you read. We don't give a fuck to be asked our opinion on some podcast with some dipshit nerd. We don't give a fuck to get jobs as actual "bloggers" or "freelance writers" because those are just code words for "yeah, I'm fucking struggling to figure out what the fuck I'm doing with my life really" since you don't really do anything when you do that, at least nothing substantial that will be here in like two years (unless you go to the Wayback Machine). Armchair Linebacker doesn't want to know football players like some bitch ass fan, although I'm sure if Neil could meet Willie Young or I could hang with Chris Cooley, we'd go up in the mountains and do mushrooms together and envision a world where the righteous ruled and the weak ass corporate minded people that ruin the soul of all good things - including the NFL - perish under the weight of their own false actions.
So what I'm saying is, dear ACLB reader, share our ACLB visions with the world - with your cyberhomies in your new-fangled phonebots and all the strange little social worlds you circle in like vultures. The ACLB vision must be known, so we can stop having these fucking nerds represent football knowledge inside the interwebs and thus on other media platforms. Those dudes are science with no spirit, speaking the garbled misfit talk of social dullards who have never known the smell of vagina juice in their mustache hairs. That is not who you want to be representing the spirit of Professional Football in word form to the world. So help us, by sharing. (And fuck it, if you wanna contribute to the blog, email me - ravenmack at gmail - or Neil - neilabfree at gmail - and get your lyrical freak on. The more the merrier, and the crazier the better.)
So anyways, as I commit to keeping this NFLuminati Index weekly after some slow times in recent months, I am cycling through my second pair of divisions in this 3rd Quarter of the NFL Season of 2011. The NFC West and NFC South lack the historical urgency of the East and North (which is basically the good parts of the old Central), but both have had their fair share of Super Bowl champions. And it could happen again. LET US BEGIN...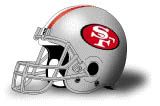 #1: SAN FRANCISCO 49ERS
(8-1, 3rd overall) - There is no doubt about it after watching a couple of Jim Harbaugh-coached games... that dude is a straight up red-assed dickhead. But he's got the 49ers clicking. And I don't mean clicking like, "Hey, we're doing good because there's been a change in coaching, but in like 13 months, we're gonna start sucking again." He has almost immediately changed the culture of this team back to something where everybody believes. You got Alex Smith controlling games, looking better than Trent Dilfer in a Ravens uniform (way better), and Vernon Davis not being all weird and shit, and a defense that doesn't look to have a weak spot, and linemen catching passes and rookie LB whiteboys playing FB and all sorts of feel-good football shit that gets the team to be like, "FUCK YEAH COACH LET'S DO THIS SHIT!" and gets the fans inebriated with the energy to where it becomes this vortex of success that can't be stifled by a single loss. And this is a huge change for the NFL, on many levels. First off, both West divisions have been scrapyards of the mediocre for a long ass time. I mean, you have the false quality team of San Diego, but they're not for-real good; and then you'd have teams flare up luckily for a year or two like the Cardinals, but nothing consistent out West. The 49ers, if they do indeed turn out to be for-real good now, change the NFC West to where eventually somebody else is going to be guilted into trying to compete with them, just to not feel like bitches for getting punked every year. Like I said, this isn't baseball where nobody cares and you can win a division for 13 years in a row. That just doesn't happen. It's personal. But also, those late games on Sunday afternoon, which in recent years are usually just eastern time zone games with a late start, can start being actual west coast teams (well, at least one of them), which has to make yall west coast motherfuckers happy. And with the psychic history of the 49ers franchise, being the launching pad for Bill Walsh, which has been the dominant force in the NFLuminati for the past 30 years, it makes sense this is happening.
And even one more thing, being they still have most of their NFC West schedule to play, which should be winnable all of them, this puts the pressure on the Packers to keep winning to get home field advantage, which could actually push them to try and get a perfect season, which I don't think another modern team would care about ever again after the Patriots blew that perfect season in the Super Bowl a few years back. Really, this 49ers team being this good alters the landscape of the NFL. (I don't really believe that last statement, it just felt like a good douchebag thing to say. I mean, it's mostly true, but the way I said that was very Jim Rome-y, which means stupid and gay and fucking stupid.)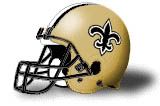 #2: NEW ORLEANS SAINTS
(7-3, 4th overall) - The Saints, even with three losses, still sit at #4 in the version of rankings I do. This is because they tend to only lose when they should possibly lose, and fuck people up when they shouldn't. Do I think the Saints can win the Super Bowl? I don't know, seems like there was a magic the year they did that that's not there. But this offense, with Jimmy Graham and Mark Ingram, seems to be a better version of that offense. And the defense continues to do just enough. But something still seems to be missing, like the Saints were given a token Super Bowl win to satisfy their second-level status as a franchise, kinda like the Colts with Peyton Manning, and that's all they'll get while the Packers and Steelers and traditional franchise heavyweights stay relevant beyond one QB.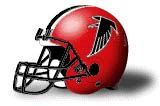 #3: ATLANTA FALCONS
(5-4, 9th overall) - The Falcons aren't even at that level where they could get a token Super Bowl. Really, as the Matt Ryan magic loses it's initial luster, the Falcons are looking more and more like a lesser San Diego Chargers - an allegedly great team that's only good and sometimes not even that. It's easy to say that Matt Ryan and this Falcons team hasn't won a playoff game, ever. It's also easy to say neither had Aaron Rodgers before last year, and now everybody acts like he's the new Tom Brady. But again, there's something missing from the Falcons, some sort of evil spirit force that energizes them in those challenging moments. The Atlanta fanbase is notoriously fickle, so I can't see them feeding their team the DMT-of-the-muscles energy it needs. But whatever. Also Mike Smith is the most anonymous dude ever, so I can't see that being successful at the ultimate level. I mean he looks like every old white guy ever. And has the same name as most of them too.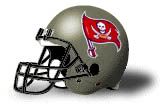 #4: TAMPA BAY BUCCANEERS
(4-5, 19th overall) - Remember last year when Josh Freeman was the league's next rising superstar? Yeah, kinda sucks, because I got that dude on my fantasy football team. That hype hasn't held up this year, and though they are mediocrely good, they ain't no playoff team, regardless of what the standings say now or will say in December. There's always two or three teams that make the playoffs that aren't legit playoff teams anyways. Maybe the Bucs can hope to be one of them this year.
#5: SEATTLE SEAHAWKS
(3-6, 21st overall) - I don't understand the Seahawks, as they seem to just be a confused team completely. They were AFC West, then came to the NFC, and completely changed their uniforms to something that was basically the same. And how long has Pete Carroll been coach there? Two years? Three? And yet it seems like he's only now building towards rebuilding next year. They are composed like an expansion franchise somehow. I don't get it. And yet, being in the NFC West, they are still the second best team around.
#6: ST. LOUIS RAMS
(2-7, 25th overall) - Speaking of the initial luster being gone from a QB, look at Sam Bradford. That dude looks like an abused 12-year-old kid at this point. But you should notice the one week the Rams put on those throwbacks with the old school Eric Dickerson and Jack Youngblood yellow, instead of this stupid assed gold shit from the Greatest Show on Turf era, they upset the Saints. That's because that color combo of the brighter blue and brighter yellow has more orgonomic energy to it. This pyrite and dark blue shit they normally wear has depleted their swagger. Look at Stephen Jackson. Look at how good Sam Bradford (or half of their young defenders) was when he first came into the league and how not so good they all are now. They are losing their internal powers, week by week, and the changes they need to make aren't personnel-related at all. It's all ambiance, and colors, and spiritually related.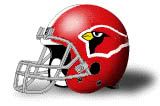 #7: ARIZONA CARDINALS
(3-6, 28th overall) - Oh man, the Cardinals. Somehow Kevin Kolb, who was going to be the new savior of the franchise, got injured and might have lost his starting job to somebody named John Skelton, who I'm pretty sure is a Grand Ole Opry comedian who does a hobo schtick. It all makes me feel sad for Larry Fitzgerald, who looks likely to have a long unsuccessful career that will be ended with a couple of years of obscurity on a power franchise, in the hopes of winning a Super Bowl, only to not win a Super Bowl, ever. He will basically become a much more likeable and vastly superior Chad Ochocinco.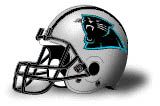 #8: CAROLINA PANTHERS
(2-7, 31st overall) - Cam Newton tears it up in fantasy football, but that hasn't translated into Ws for the real team. Similar to how Tim Tebow sucks for fantasy football, but always wins. Maybe that should be Cam Newton's hype now - NO MATTER THE OPPONENT, HE JUST GETS A BUNCH OF YARDS (though the Panthers usually still lose). I think a great fanfic project for somebody would be to write about the young millionaire Cam Newton falling under the tutelage of the elder athlete Steve Smith, who used to waste money on fines for airbrushing gibberish on his playing cleats every week. Charlotte, North Carolina, is the home to some fine black-oriented adult establishments, and rim and detail shops galore. It'd be a 2011 version of that young bull/old bull on a hill overlooking a bunch of milfs joke, about running down and fucking one or walking down and fucking them all, except it'd be set in North Carolina with humans, not bulls, which means they could wear some cool ass clothes. Does North Carolina A&T have a creative writing program?