First of all, if you haven't read Miguelito's entry discussing
the passing of Al Davis
, you need to. Especially if you're a newer/younger football fan and don't quite understand why that crazy decrepit old guy was so respected for so long. Football and America are poorer for his passing, and that's not hyperbole.
Ready?
Cool.
So the 49ers came back and beat the Eagles last week, making them 3-1 on the young season, but more importantly than that, it was how they played the game and how they won, not merely the record itself, that has me starting to get truly excited about this season. I know "it's how you play the game" is usually what we tell kids playing little league and Pop Warner, because none of them are ever going to be professional players so it's really just a mechanism for socializing them and teaching them how to get along and work with their peers, especially the ones they don't like. The professional level is supposed to be about winning and only winning, and that's all we care about and thus, all the mercenary gladiators in our tunic of choice are supposed to care about. But even at the biggest level "how you play the game" matters, in a sense. How the 49ers won is as impressive and cause for pumping of the fist as where they won (on the road, out of the division) and the mere fact that they won.
Alex Smith led a 20 point comeback to fruition. Usually he gets 17 of them and throws a backbreaking interception or something. The defense overcame its weakness being exploited by the opposition; Vick ran away from rushers and completed big passes to DeSean Jackson all game long, but they were all merely big gains leading to field goals, not touchdowns. They bent but did not break, which admittedly is more than the secondary's play had led me to believe they were capable of. Michael Crabtree started reaching for shit and catching "bad" throws, bailing Smith out and making it look easy, just one week after my sarcastically bitching after his drops that maybe he should attend a practice once in a while.
Or to make things simpler, the 49ers beat a consensus Good Team (as opposed to one of their division rivals), on the road. They seem to be capable of more than just slapping their weak division around and limping into the playoffs at .500 or worse as a half-bye for the better of the two wild card teams. They might be able to deserve to be there (though still probably lose to the better of the two wild card teams).
They also, this week, might be able to wash out one of the more embarrassing stains of the 2010 season, as they once again take on the Tampa Bay Buccaneers at home.
Last year, Mike Singletary deliberately constructed a game plan that removed QB Troy Smith's strengths as a player in order to "rein in" his "reckles" play. Yes, it was as stupid as it sounds. They lost 21-0, ended all but mathematical hope for the division in Game 10, and were so dull and boring and predictable and the game dragged and I literally slept through the fourth quarter. This all at home, mind. In its own way, it's one of the worst losses in franchise history.
Before the season started, and I like many fans played The Schedule Game, this was a game I thought they would need and likely not get vis a vis winning a playoff spot. I felt a little better about it than, say, next week's road game against Neil's New And Definitely Improved Lions, but I couldn't smugly say "oh that's a win" about this one, either. I just crossed my fingers. Because I had last week's Eagle game given up as a loss that I'd be blogging about seeing "signs of improvement" in their keeping it close. But the empowering thing about last week's win, and How They Played the game, is, if they could beat the Eagles like that, then they can compete against and beat real teams, the 10 games outside their division. They can certainly take the Bucs in a home game. I watched those Bucs shoot themselves in the foot and stumble to a narrow win against a team that almost literally does not have a QB, the post-Manning Colts. Sure, Josh Freeman is as big as Vick (though not as fast), so there could be a repeat of last week's shaken off sacks. But they don't have anyone as fast as DeSean to throw to, either.
Not to mention LaGarrette Blount will have to try running through THESE GUYS: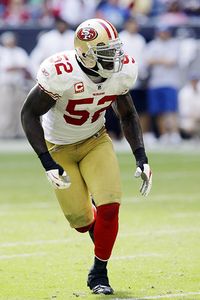 These guys are the highlight of the defense. No surprise in the case of MISTER WILLIS, who is a perpetual All-Pro and has the "C" on his jersey. WILLIS' tackle numbers are actually down this year, though this is actually a good thing. It's the result of him being freed up to be used in other ways by the team, i.e. blitzing and bolstering the pass rush. It's also because MISTER BOWMAN is in the inside with him, and is actually taking tackles away from WILLIS because he is every bit as quick and aggressive and hard-hitting and, best of all, instinctually
right
in the linebacker spot. BOWMAN has, in just a couple of games, promoted himself to sharing all-caps status with WILLIS. When the 49er offense was mounting the comeback, these guys were the main men in generating the stops on defense. We already knew WILLIS was great, but BOWMAN being on his level is a pleasant surprise that is going a long way towards raising my hopes for this team this year.
Blount vs WILLIS & BOWMAN. Power against power. Should be fun, and I like the 49ers' chances at 4-1. Feels so good to type that.