So let us again journey through the NFL as filtered into two divisions to see where these here teams stand amongst the full list of NFL teams as calculated by my half-scientific, half-drug-induced scale of bestestness. Certainly, this is the interweb, so you are free to disagree (and probably will), but understand this – I am a scientist in real life and a recreational drug user of a serious sort, probably due to my naturally inquisitive nature. Drugs are not for avoiding reality but for unlocking the ultimate reality. So as I lay these NFL meanderings out for you, you need to understand that this is not the delusional egotistic ramblings of a man who thinks he should be a football pundit. I know the deal, and I know my type could never maintain employment, fore I tell the truth which is often dark and terrible and painful to face. The NFL would have you believe it is a wonderful glossy shiny pain-free product that you can freely indulge in two or three or more days as week, and feel comfortable like walking through a freshly mopped mall, no saggy pants black people or youngsters with too many facial piercings lurking about. It is not though. It is a goddamned scam, that is well-coordinated to build up to pre-established course of action. This year has been an interesting one because they are playing the whole parity meme out, as if anybody could tighten up and win it, and how it changes from week to week. This is because our world economy is in a shambles, and actually just only starting to fall apart, though the TV faces would convince you otherwise. Our fake money has been built upon nothing and the slant-eyed loan sharks are about to come calling with a baseball bat for our kneecaps, so the shit shall hit the proverbial fan here fairly quickly, comrades. But the NFL wants you to feel good about anybody coming up, and a quick run can turn around even the misfortunes off the most middle-of-the-pack teams (aka middle class). It is a well-engineered silent weapon for a quiet war, and good lord how I enjoy it so.
This week we muck our way through the AFC's lesser overall record divisions – the West and the North, though really, the North would be pretty good if it wasn't for that bottom team. But I shall break these things down in individual splatters of words against the tin roof of your mind, as we go a little something like this…
#1: PITTSBURGH STEELERS
(6-3, 4th overall) – Yes, according to my scale, even with a home loss to the Patriots, the Steelers are still 4th-best team in the NFL. And this is true. I am not quite sure why they sacrificed their kicker to the Gods of Anger, because there are not many solid kickers left in the NFL and it seems we get the same tired retreads over and over and over and over. Shouldn't there be a new generation of Zendejases by now, or a younger nephew Grammatica? Hines Ward also got his bell rung, seriously bad, and has complained to the media about the concussion policy. I actually, in my job as a professional scientist, I saw the team neurosurgeon for the Steelers speak in Florida this past summer, and he was on the forefront of these new concussion rules (as is University of Pittsburgh, where all those seriously concussed motherfuckers have been going to be checked out). He told the story of how it was he who forced Roethlisberger to sit last year, because he wouldn't clear him at the end of the season. I thought about that guy while I was reading about Hines Ward being all pissed off about not being able to play this week potentially. Then I thought about the rest of my trip to that conference, and how on the last night I wandered the Gulf Coast beaches in an alcohol-infused frenzy, and woke up the next morning without my phone, and not knowing where it was. Eventually I found it on the balcony, along with all my clothes, meaning at some point the night before, after my brain shut down, I was outside naked. Those are always usually good nights.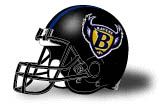 #2: BALTIMORE RAVENS
(6-3, 5th overall) – My birth middle name is Raven, so when they announced back in the day that there was gonna be a Ravens team, I was like, "Aww shit," expecting some evil ass jerseys to rock. But instead they somehow came up with the least intimidating black football jerseys ever known to American football. On top of all this, Ray Lewis does that stupid fucking dance. Now I know we are all supposed to like Ray Lewis because he does wacky commercials that make no sense and the ultimate in humor in 2010 is things that make no sense, but come on, dude looks creepy as fuck doing that damn dance in some tight ass pants, especially when you think about how he's probably sodomized about two-thirds of the girls that worked in Luther Campbell's strip clubs from 1996 through 2002. And not to stereotype, but if ever there was an NFL player who looked like a sexual predator, it would be Ray Lewis. That all being said, Joe Flacco may be the most perfectly vanilla white QB the NFL has seen in decades. Like I could not pick that guy out of a line-up if I had to. And I love those local storylines like his, where he played college ball in Delaware, was drafted by Baltimore, and is like King of Eastern Maryland I would imagine.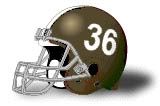 #3: CLEVELAND BROWNS
(3-6, 15th overall) – Okay, if ever there was proof positive the NFL is not for real and fixed as a motherfucker, it would be the rookie successes of Colt McCoy. It does not make sense for a Chris Simms who grew a gay bar mustache guy to have any success, or be named the way he is. Seriously, even after looking at the guy for a few series, I feel like I've watched a gay porn. Like, you know that point in your growth as an adult where you would check out a few "firefighter" flicks just to see what it was like and whether it made your dick hard? I guess that reference is dated though. Nowadays, you hit up craigslist for a bisexual couple to hook up with so you can experience the feel and taste of a penis but with a shared vagina to help you feel okay with it. We've really come a long ways as Americans, haven't we?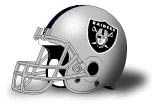 #4: OAKLAND RAIDERS
(5-4, 18th overall) – Holy shit, the Raiders are actually in position to make the playoffs. That is so utterly amazing I'm not even sure how to make fun of them in a blurb. I have to say that Tom Cable is the most greatest head coach in all the NFL. In an age when most head coaches are fake millionaires who do self-help talks in the off-season to secret corporate groups, and everyone's all about the management, Cable is straight up old school and looks like if you fuck up, he's going to shove someone else's broken femur bone up your ass. Watching Sebastian Janikowski hit that game-winning field goal against the Chiefs the other week, and then have his big ass be stoked, it was great, because you knew if he missed it, Cable was going to be chasing him around some dark corner of their facilities with a cattle prod, but he made it, so they all probably roofie bombed one of Al Davis's granddaughters best friends and had a celebratory Raider Train. Man, you look at some of the guys on that team, and I know the Raiders have a long-time reputation for being strange people, but you look at some of those guys, like Janikowski or Richard Seymour or Samson Satele, and it looks like a fucked up bunch of dudes, who are probably getting away with all types of bullshit behind Al Davis's back, which is why a guy like Tom Cable makes so much more sense than a little prissy fucker like Lane Kiffin. Cable can just be like, "I don't give a fuck what you guys do, but you better bust your goddamned ass and win a game or two, and then we all fuck the 15-year-old together. But if you slack off and don't do shit my way, I'm gonna fuck her by myself and make you watch the video of it I make during film study."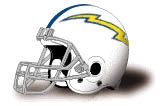 #5: SAN DIEGO CHARGERS
(4-5, 19th overall) – Norv Turner is such an incredible dumbass that it seems almost amazing that such a perfectly red ass douchebag like Phillip Rivers would end up being married to him as QB. I hear a lot of talk about Rivers being the league MVP and it amazes me. The Chargers aren't even a .500 team, and regardless of what Rivers is doing, fuck him. He's a pouty, privileged cocksucker. It would make me so happy if they do not back their way into the playoffs again, so they can stop using those playoff eliminations as excuse that they are on a good path, because basically fuck the Chargers. Most douchebag trifecta of GM/head coach/starting QB probably in the history of the NFL.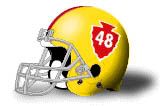 #6: KANSAS CITY CHIEFS
(5-4, 20th overall) – Oh man, the Chiefs. Looks like the golden chariot is turning back into a pumpkin a little before midnight on Todd Haley, who had himself a nice hissy fit last weekend over the Broncos running roughshod on them. All these Belichick coaching tree fuckheads need to go away. Hell, Haley's accumulated like the retirement home of Belichick guys who failed as their own head coach in Kansas City, and it's worked a little but seems to be coming apart. What kind of a punked out team are you if all you do is try to emulate some other team, completely, with their former back-up QB and Mike Vrabel and the whole schtick? It's shameful and embarrassing.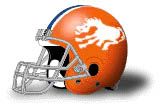 #7: DENVER BRONCOS
(3-6, 27th overall) – You do all realize that eventually Tebowmania will run wild throughout the NFL and young kids will commit to celibacy and start rocking tonsure haircuts, don't you? It is our future, to be groomed to accept Jesus. Shit man, Colorado is the perfect place for that to incubate. One time, I was in Colorado, poking around, and went for a long ass bike ride outside of Boulder and rolled up on what I can only assume in retrospect to be some sort of Klan meeting or something. Like it was freaky as fuck, and me and the dude I was with just turned and hauled ass before they got a good sight of us. But it did not look like it was going to be a good situation. I think it's because their mountains out there have no green on them, just brown, it takes them out of that normal Appalachian crazy mountain type where you end up with great stories and shoot schoolbuses with an AR-15 with a guy and they go full bore into that "guvmint is evil, plus the blacks" 24-7-365 serious bizness mode. Fuck serious business, about anything. Life is too short to care about shit.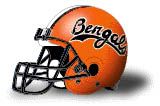 #8: CINCINNATI BENGALS
(2-7, 28th overall) – Ahh, Cincinnati Bengals, with your Carson Palmer/Ochocinco/T.O. offense that was going to be so great. Look at you, not able to win even a handful of games this year. Sometimes I feel bad for Carson Palmer because he does seem like he could've been great, but he got doomed in Cincinnati and nothing ever worked out for him. But then I remember he was a USC starting QB, making him like the Super-Illuminati of the College Ranks, so fuck him. Also, one can never see enough ill fortune befall Chad Ochocinco and Terrell Owens. I heard Ochocinco just got engaged and I was very interested to see how that stripper looks. I would imagine, guessing without knowledge, that she is a brown-skinned woman, probably of some sort of Latin persuasion, but carries herself like an executive type. You know, the recovered hoochie mama type who is part of a bunch of Facebook groups about aspirations with names like Woman2Woman Collective or The UGoGirl Initiative. Man, the one thing I miss most about working in a print shop is getting my own copy of all the weird ass books people like that chose to pay to print. Good stuff. We've really lost a lot of entertainment in our lives relying strictly on the digital media. I just don't feel good about carrying my laptop into the bathroom with me, unless I'm trying to secretly masturbate to porn videos.